True love is presented in the form of 'Screen Life'... Exciting poster revealed.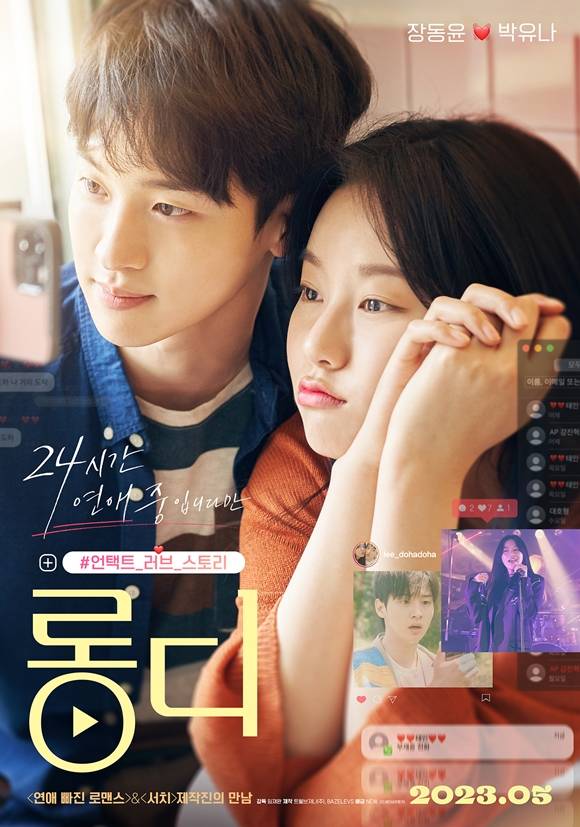 Source: NEW
[The Fact|Reporter Park Ji-yoon] The ambiguous love story of actor Jang Dong-yoon and Park Yuna in 'Long D' will premiere in May.
On the 14th, NEW released the first poster of the movie 'Long D' (Directed by Lim Jae-wan). The photo attracted attention because it contained two thrilling scenes of Jang Dong-yoon and Park Yuna.
The movie depicts the ambiguous love story of Doha (Jang Dong-yoon) and Tae-in (Park Yu-na), a couple of the same age who started a long distance relationship before the age of 30s.
Jang Dong-yoon starrs Do-ha, a newcomer to society. From an avid fan of the indie band 'Yeonsin Gupsin', he became the lover of the band's lead vocalist, Tae-in, and has been in a relationship for 5 years.
Park Yuna plays Tae-in, Doha's longtime lover. Although he has passed his hot 20s, he is someone who stands at the crossroads between dream and reality before stepping on at the age of 30. Do-ha and Tae-in, who have their own worries, enter a new phase as they begin a long-distance relationship.
Among them, the poster published on this day attracts attention when it contains the romantic image of Doha and Taein, creating a comfortable atmosphere like longtime lovers. Here the phrase 'I'm in a relationship for 24 hours' and the tag 'unclear love story' can give a glimpse of today's generation's love connected by LAN cable even when long distance.
In addition, the clues lurking here and there, such as piling up missed calls and mesmerizing photos of Doha, arouse curiosity by suggesting that it's a romance in the form of 'screen life', where scenes include screens of digital devices such as smartphones and PCs.
'Long D' gained attention as a joint production of Baselevs, who introduced the 'life on screen' technique to the world with the movie 'Search'.
Director Timur Bekmambetov, CEO of Baselevs, said in writing, "I am delighted to be involved in the production of Korean films at a time when interest in K-content is growing worldwide."I will accept the screen life format the most because I have a high level of acceptance."
An ambiguous love story 'Long D' will be released in May.