Shorten the period from 186 days to 200 million → 70 days → 68 days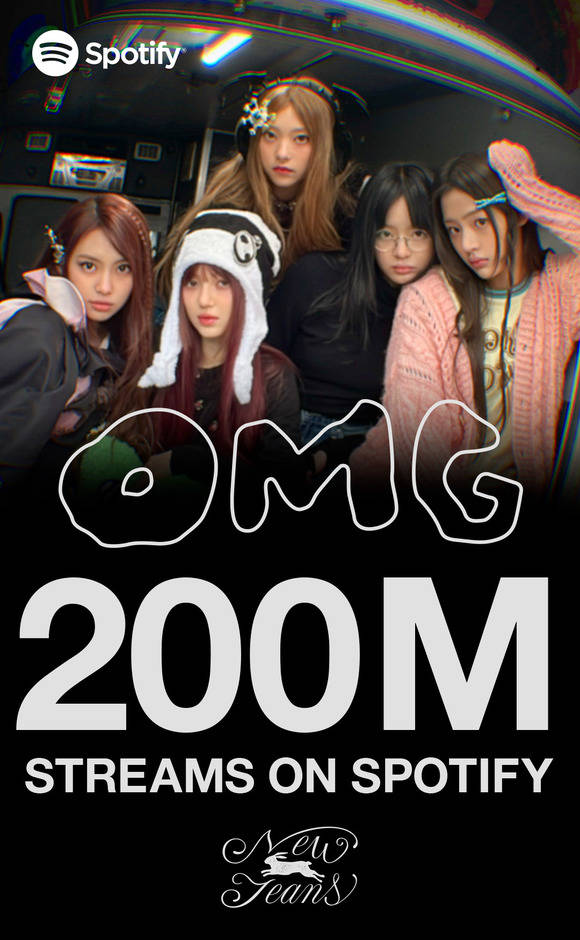 Source: ADOR
[The fact | [Reporter Jeong Byeong-geun] NewJeans has increased the number of Spotify streaming songs by 200 million.
According to Spotify, New Jeans' single album 'OMG' and title song 'OMG' of the same name have accumulated 202,076,893 plays as of the 13th.
It's been 70 days since 'OMG' was released. Before that, the song took 36 days to reach 100 million streams on Spotify. Instead, the time required (34 days) was shortened to change the first digit in the billion unit.
As a result, Newjeans has reached 200 million streams on Spotify with a total of three songs, including 'Hype boy', 'Ditto' and 'OMG'.
All three songs 'OMG' and 'Ditto' reached 200 million views faster than their debut song 'Hype boy'. 'Hype boy' reached 200 million in 186 days, while 'OMG' and 'Ditto' took 70 and 68 days respectively.
In addition to these 3 songs, 'Attention' and 'Cookie' have surpassed 100 million streams, 'Hurt' has also surpassed 100 million streams, it is expected that all 6 songs will enter the top 100 million streams ranks.
New Jeans is also a favorite for a long time on the Spotify chart. On the 'Global Weekly Songs' chart recently announced by Spotify (as of March 9), 'OMG' ranks 21st and 'Ditto' ranks 43rd. The two songs are on the chart, respectively ranking for 10 and 12 consecutive weeks.