"I'm reflecting on myself to the point of wanting to go back to the past"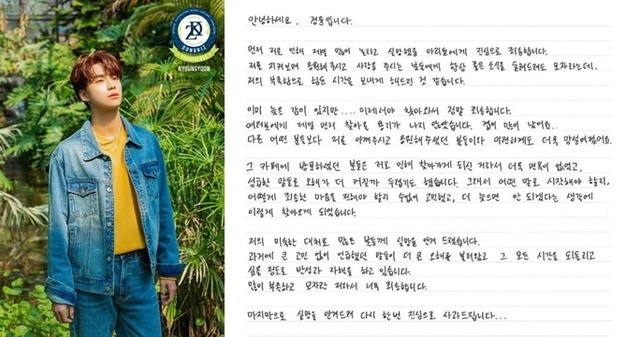 Source: DKZ fancafe
[The Fact / Lee Han Rim] Kyung Yoon (DKZ) apologized to fans after confessing that he used to be a member of JMS.
On March 14th, Kyung Yoon posted a handwritten apology on DKZ's official fan cafe and said, "I sincerely apologize to Ari (DKZ's fandom name) - who surprised and disappointed about me"
Next, the male singer shared, "People who come to the cafe feel even more embarrassed because I am the reason they came, and I am afraid that my hasty words may lead to greater misunderstandings."
Recently, Kyung Yoon caused controversy when he learned that the fake religious JMS was made known to the world through the Netflix documentary "In the Name of God, A Holy Betrayal". In particular, a cafe run by Kyung Yoon's parents known as a JMS related cafe has fans sock.
On the other hand, Kyung Yoon is said to have left the religion as the controversy over JMS continues. Kyung Yoon's management agency Dong-A Entertainment said, "The companies under the management of the family immediately ceased operations, and checked all parts related to the organization causing influence and stopped joining the cult."