3rd poster and announcement released… Jeon Do-yeon's movie as assassin.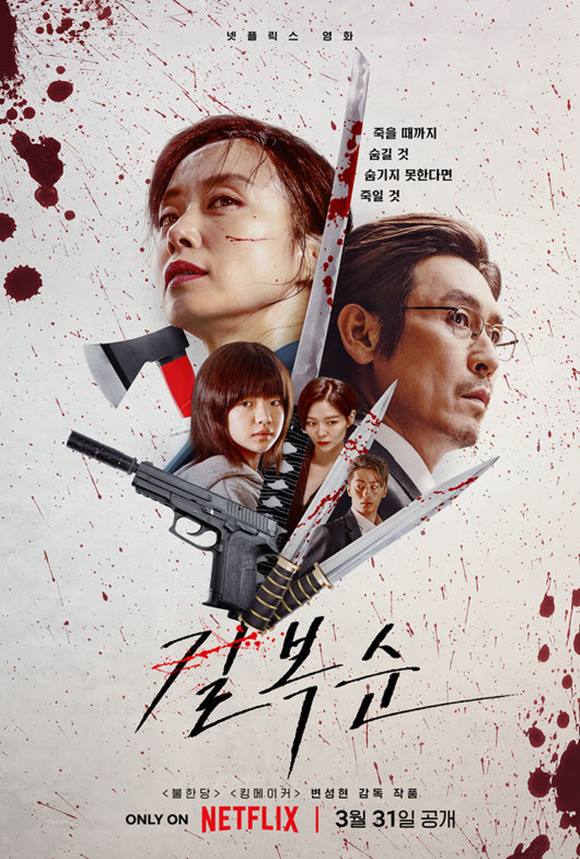 [The Fact ㅣ Reporter Kim Saet-byeol] 'Gil Bok-soon' caused tension before its release.
On the 16th, Netflix released the 3rd poster and final trailer of the original movie 'Kil Bok-soon' (directed by Byun Seong-hyun).
'Bok-Soon Gil' is an action drama that tells the story of Bok-Soon Gil (Do-Yeon Jeon), a legendary assassin in the assassin industry, who is caught up in an inevitable confrontation. immediately before renewing the contract with the company.
In the third poster released, the main characters of 'Gil Bok-soon' are placed in a frame between the bloody knife and the gun.
Under the charismatic looks of Gil Bok-soon (played by Jeon Do-yeon), an assassin and single mother, and Cha Min-gyu (played by Seol Kyung-gu), CEO of MK ENT, the public Best company in contract murder. industry, from Gil Bok-soon's daughter Gil Jae-yeong (played by Kim Sia) to Cha Min-kyu's younger brother and MK ENT director Cha Min-hee (played by Esom) and the killer person Hee-seong (played by Koo Kyo) -hwan) of MK ENT, the poster with scenes of blood flowing between the characters raises expectations for a story about the world of brutal killers.
The final trailer released together features a speech scene from Cha Min-gyu, the CEO of MK ENT, the best company in the contract killing industry to which many killers belong.
As he puts it, "Murder is now a global business and we are treated fairly", the attention focused on the unique worldview they will present, heralding the arrival of of killers working with their own pride, rather than local security agencies or gangsters.
On the other hand, the appearance of Gil Bok-soon, who casually lied that she was on a business trip at a parental social gathering, piqued curiosity about what kind of story would unfold between the two. the identity of a special A-rank assassin. and Jae-young's mother.
Here, Gil Jae-young confesses a secret, "I saw a gun in my mother's pocket," Cha Min-hee gives a conspiratorial smile, and Hee-seong holds a knife. with a determined expression when facing Gil Bok-soon, each hiding their true feelings Foreshadowing the relationship between the characters.
It is expected that director Byun Sung-hyun's solid directing skills, and Jeon Do-yeon's delicate acting skills and action to portray the dilemma of Gil Bok-soon, a character charm between killer and single mother, and acting synergies. The actors will create a bloody and dangerous but exciting relationship.
'Kil Bok-soon' will be released on Netflix on the 31st.