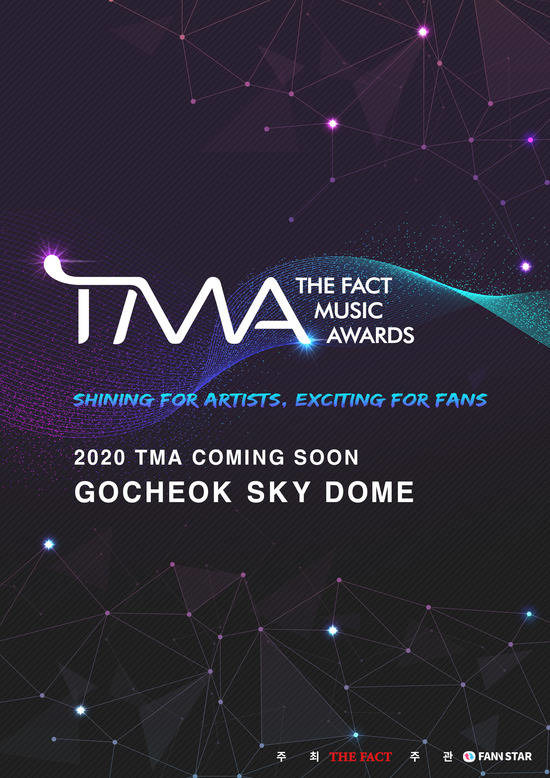 The "The Fact Music Awards," tentatively postponed to prevent the spread of COVID-19 will host the 2019 award ceremony online and will return with a new look based on 2020 content in the second half.

The "THE FACT MUSIC AWARDS, TMA" organizing committee said on March 9 that it will replace online awards for all sections of the "2019 The Fact Music Awards" that were not available in the aftermath of the COVID-19, adding that the results of the award will be released on the official website at 10 a.m. on March 16.
The winners of the "The Fact Music Awards," originally scheduled to be held on Feb. 29, was decided based on the results of the 2019 score tally. However, with the unexpected spread of COVID-19 the organizing committee decided that the screening criteria would be less timely and thus decided on the online award.
The awards for all originally scheduled "The Fact Music Awards," including the grand prize for honor, the "Listeners' Choice," "Artist of the Year," "Special Award," "Next Leader," "Popular" and "Fan and Star" will be held online. The results will be released on the official website on the 16th, and the award videos will also be uploaded sequentially.
The review will be based on the tally from January to December 2019. The four categories, including Grand Prize, Linus Choice, Artist of the Year and Next Leader, will be decided by adding 40 percent of the music and album scores and 60 percent of the judges' scores. The music and record scores are derived based on Gaon Chart data.
The special award will reflect 100 percent of the judges' score and 100 percent of the votes will be counted for the Popularity Award and the Fan and Star Choice Award. The most-voted fan-and-star award will be won by the most number of people in the real-time ranking from May 2019 to February 2020.
The "2020 The Fact Music Awards," which was scheduled on the 29th, is expected to be presented by BTS, Super Junior, TWICE, Red Velvet, Chungha, MAMAMOO, (G)I-DLE, ITZY, MONSTA X, NU'EST, Stray Kids, N.Flying, THE BOYZ, IZ, and TOMORROW X TOGETHER.
The award ceremony, to be held in the second half of this year, will be in the form of the nation's top K-pop festival, where fans and artists together will wrap up 2020 and hold a festival.