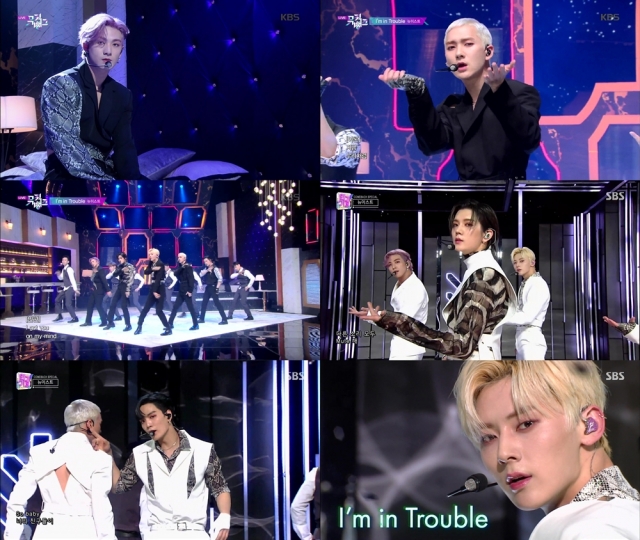 The group NU'EST (JR, Aron, Baekho, Minhyun, Ren) has taken control of various music broadcasting stages with deadly charisma. NU'EST, who returned with its eighth mini album "The Nocturne" on the 11th, successfully completed its first week of comeback. They attempted a drastic transformation with the title track "I'm in Trouble," showing mature charm, as well as proving NU'EST's infinite musicality by providing a soft yet refreshing atmosphere in the sub-song "Back To Me."
In addition, "I'm in Trouble" topped various online music charts right after the release of the song, as well as topping iTunes album charts in 13 regions and topping the weekly charts in 21 regions, including Hanteo Chart and Shinnara Records, showing strong popularity both at home and abroad, showing that this challenge has also been popular with the public. Among them, it was the stage on the music show that gave the best glimpse of NU'EST's transformation. Let's look at the special points that NU'EST had no choice but to focus on their stage and what the weapon was that captivated the public with "I'm in Trouble."
# Sexy-A combination performance
NU'EST dominated the stage by showing a performance that combines sexiness and boldness in "I'm in Trouble," as they are usually called "stage craftsmen" for their synchronized group dance and colorful dance. The members perfectly expressed the deadly atmosphere of the song with live choreography, making viewers fall in love with NU'EST with intense attraction.
# Thick facial expressions that pour out for about 3 minutes
Above all, NU'EST's shining sculpture visuals as well as their strong facial expressions are a big part of increasing immersion in the "I'm in Trouble" stage.
As member JR earlier picked "face" as one of the most important parts of preparing for the stage, NU'EST showed a different charm than ever before by performing facial expressions with chic charismatic eyes and fascinating moods.
# Intro full of refined atmosphere
Moreover, "Music Bank," which aired on the 15th, has redoubled the sophisticated atmosphere of NU'EST by preparing a special intro. From Ren, who lowered his eyes at the bar table, to Baekho in the bedroom, and Minhyun, who walked out with a powerful walk behind the door, the members completed a powerful five-member, five-color intro with charisma before starting the stage in earnest.
As such, NU'EST is renewing every stage as a legend by taking advantage of its detailed points that allow users to fully enjoy the song, including its performance that stands out in a controlled manner, excellent facial expressions, and the intro that implicitly showed the atmosphere of the stage.
Meanwhile, NU'EST will continue to be active with its new song 'I'm in Trouble.'