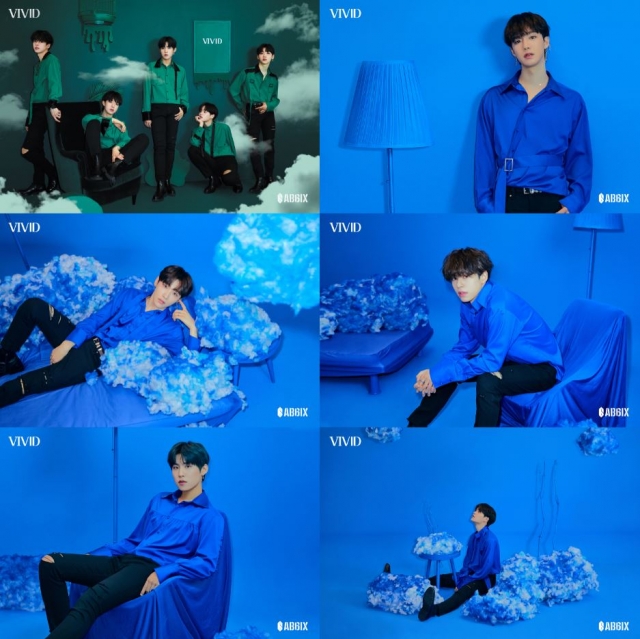 AB6IX has released its second concept photo of its new album 'VIVID', which will be released on June 8.
BRANDNEW MUSIC captured fans' hearts by releasing the second concept photo of AB6IX 2ND EP "VIVID" on AB6IX's official SNS channels at 12 p.m. today (21st), in which AB6IX created a sophisticated atmosphere with neat shirt styling and excited fans.
In the group photo, where the green background and costumes stand out, AB6IX members caught the eye with mysterious and luxurious charms, and in the following individual photos, they drew attention by creating a different feeling from group photos with blue backgrounds and costumes.
In particular, in individual photos, the leader Lim Young-min expressed a faint feeling with a soft, deep look, while Jeon Woong showed off his presence with a chic aura while at the same time showing off his dreamy mood, and Kim Dong-hyun, who has an attractive sharp jawline and nose, drew attention by creating a calm and melancholy atmosphere. Also, Park Woo-jin leaned on the sofa and left a strong impression with a cold yet restrained charisma, while Lee Dae-hwi, who looked into the air as if lost in thought, attracted countless fans with a more mature and deeper atmosphere.
AB6IX, which showed a refreshing visual in the first concept photo released earlier, further raised fans' expectations for their comeback with a 180-degree change in the atmosphere through the second concept photo, and also focused their attention on the promotional contents to be released in the future.
Meanwhile, AB6IX (Lim Young-min, Jeon Woong, Kim Dong-hyun, Park Woo-jin, and Lee Dae-hwi) is planning to hold an online fan meeting called 'AB6IX 2ND FANMEETING [1ST ABIVERSARY]' to commemorate the first anniversary of their debut through Naver V LIVE FANSHIP on May 22 before their comeback on June 8.