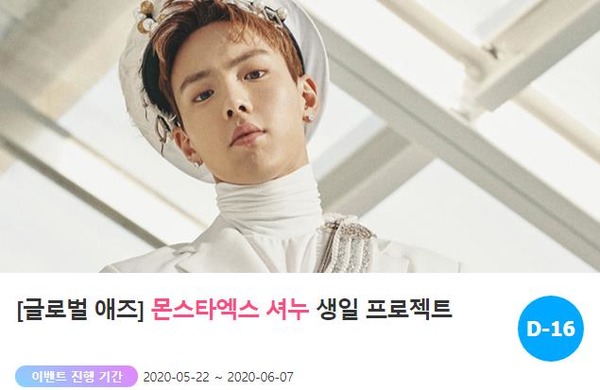 Fan & Star, a website that delivers information on idol rankings, opened Shownu's birthday project on May 22. It is a global fan-sympathetic project in which advertisements celebrating his birthday are posted throughout Seoul.
The project can be joined by domestic and foreign fans. In particular, a fan who supports Shownu is known to have applied for the event himself, drawing attention.
When 20,000 stars (points that can be collected on the site) are gathered in the project, a congratulatory video will be shown on the CM board at Hapjeong Station in Seoul. When the number of stars reaches 45,000, a congratulatory video will also be uploaded on the SM board (wall) of Gangnam Station. In addition, super-special products such as digital advertisements at Lotte Department Store in Jamsil, Myeong-dong, and Dongdaemun 1-day packages (Lotte) are waiting for fans.
Earlier, "Fan & Star" opened its birthday support for member Jooheon on September 7, 2018. With the participation of many domestic and foreign fans, 101,138 stars gathered. For a week from Oct. 2 to 8 of the same year, a congratulatory video was shown on an electronic display near Shin-Okubo Station in Shinjuku, Tokyo, Japan.
Following Jooheon, Shownu is looking forward to receiving a surprise birthday present prepared by fans. The event will run until the 7th. Meanwhile, MONSTA X, which includes Shownu, won the Artist of the Year at the "2019 The Fact Music Awards." On March 23, a video of the acceptance speech was released on the TMA's official website.