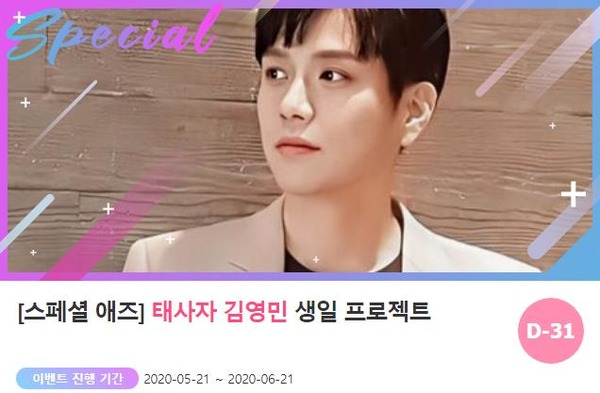 Fan & Star, where fans and stars are together, opened a surprise event for Kim Young-min on the 21st. It is a large advertising project to celebrate his birthday on July 3.
The success of Kim Young-min's birthday project will be determined by the number of stars donated by fans (points that can be collected on the site). The more stars gather, the more congratulatory advertisements are held in various places.
If more than 20,000 stars are gathered, a congratulatory video will be shown on the CM board at Hapjeong Station in Mapo-gu, Seoul. When the number of stars reaches 45,000, a congratulatory video will also be uploaded on the SM board (wall) of Gangnam Station. In addition, abundant products such as Seoul Bus No. 273, Express Bus Station DID ad, Myeong-dong Media facade, and Konkuk University Star City electronic display board are waiting for fans.
Earlier, "Fan & Star" opened a birthday project for its members Kim Hyung-joon and Lee Dong-yoon. With the enthusiastic support of fans, many products have been achieved, ranging from subway station electronic boards to outdoor advertisements.
Attention is focusing on whether Kim Young-min will be able to receive surprise birthday gifts from fans following the two.
The event runs until June 21.