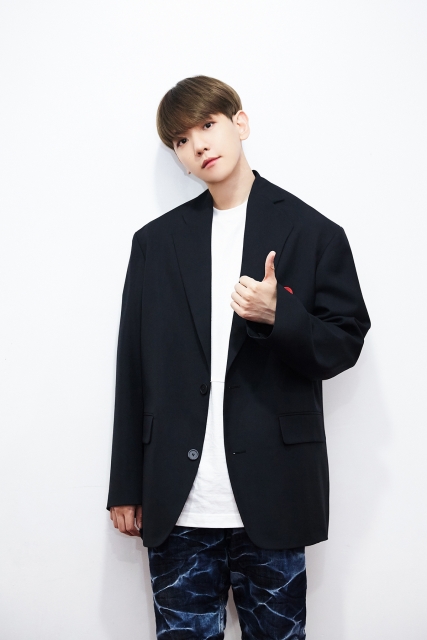 EXO's Baekhyun (S.M. Entertainment) will make a comeback with its new solo album "Delight" on Saturday.
Baekhyun's second mini-album "Delight" will be released on various music sites at 6 p.m. today, while the music video for the title track "Candy" will also be released simultaneously on YouTube and Naver TV SMTOWN channels.
Even before its release, the new song "Delight" drew keen attention, surpassing 730,000 pre-orders, and Baekhyun revealed the story and goals of the new song before entering full-fledged activities.
Here's how Baekhyun feels about his comeback and answers about his new album.
Q1. It is a solo album released about 10 months after its first mini album. How do you feel about the comeback?
It's been a while since I made a comeback with a solo album, so I'm very nervous, but I'm excited and happy to think of the fans who were waiting for the album.
Q2. Introduce the second mini-album 'Delight'.
- 'Delight' means 'joy' in a dictionary sense, and I wanted to give joy to many people through this album. (laughs) And I wanted to put "light" in the album's name because EXO has the supernatural power of "light," but I chose "Delight" to give it a feeling of being connected to my solo debut album "City Light." There are seven songs in various moods, including the title track "Candy," so please listen to them a lot.
Q3. What kind of song is the title track "Candy"? What should I thank you for?
- 'Candy' is a trendy R&B song, and the lyrics compare my various charms and match the different candy flavors. If you look closely, there are many sensual and sensual expressions that express the taste of "adult cinnamon, funny mint," so this is likely to be the point of appreciation.
Q4. "Candy" is a song that compares Baekhyun's charm to "Sweet." Which flavor do you think would suit best?
-I'll give you a sour, sweet strawberry flavor. I personally like strawberries. (laughs)
Q5. Perform 'Candy' together. What kind of dance is that? What did you particularly notice?
- I worked with Kasper, a choreographer and an old friend. He used to teach us popular dances. Candy is a trendy song, so it fits the style of the song. It is also a hip-hop dance that is gaining popularity around the world. It is a song that melts hip movements. Especially, I paid a lot of attention to the choreography of the chorus part.
Q6. How did EXO members react after listening to the title song "Candy?
All the members cheered for me, saying that the song was so good. Suho and Chanyeol came to the music video set and gave us a lot of strength. (laughs)
Q7. From her first solo album to this album, she is presenting R&B genre. If there's a genre you want to try,
- I'd like to challenge the genre of rock ballads in a while. I've been listening to various genres of music lately, and I personally felt that rock ballads have a great influence on me.
Q8. What 'Delight' would you like to make Baekhyun happy?
Apologize! (laughs) These days, I try to eat apples for my first meal every day. I think I haven't thought much about my health so far, so I'm living my life to improve my immune system and take care of my health.
Q9. Is there any goal you want to achieve with your debut album?
-I want to strengthen my position as a solo artist through this album, and I want to impress many people. And I hope you can listen to my voice and feel healing as always.