Climbed the Billboard 200 three times in a row... ★★★★★ (5-STAR), cumulative sales exceeding 5 million copies.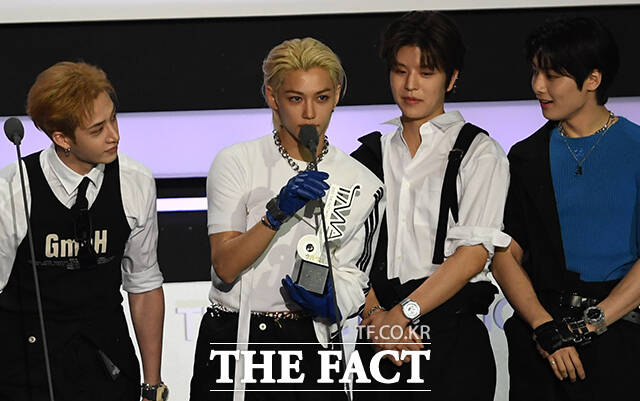 Source: Reporter Lim Young-moo
[The FactㅣReporter Cho Seong-eun] Global boy group Stray Kids, considered the 'absolute powerhouse of 4th generation idols', was selected as 'Artist of the Year' again this year.
Stray Kids (Rino, Bang Chan, Hyunjin, Han, Felix, Seungmin, I.N., Changbin) won the 'Artist of the Year' award at the '2023 The Fact Music Awards (2023 TMA)' held at Namdong Gymnasium in Incheon on the 10th.
Source: Reporter Lim Young-moo
Stray Kids started off by winning the 'Next Leader' award, equivalent to the Rookie Award, at the 2018 TMA, followed by Dance Performer of the Year in 2019, Global Hottest in 2020, Artist of the Year in 2021, and Artist of the Year and Fourstar Awards last year.
Stray Kids, who took the award stage, said, "It's an honor to receive such a great award right after the Chuseok holiday. Thank you, Stay," and "We will repay you with this valuable award with great songs and performances." He added, "We received the award for Artist of the Year, and we will work harder so that we can receive this award next year as well. Thank you so much for staying."
Stray Kids' 3rd full-length album '★★★★★(5-STAR)', released in June, achieved a new No. 1 spot in the first week, selling more than 4.61 million copies. '★★★★★(5-STAR)' set a record of reaching the top of the Billboard 200 three times in a row, following 'ODDINARY' and 'MAXIDENT'. Stray Kids, who set their own record with each album, surpassed 5 million copies in cumulative sales with '★★★★★(5-STAR)'.
On the 17th of last month, they became the first 4th generation K-pop boy group to enter Japan's 4 major dome concert halls and successfully sold out all tickets. Stray Kids, who gained momentum with a total of 8 dome tours in 4 cities, will continue their global activities by appearing at the '2023 MTV Video Music Awards (MTV VMAs)' to be held in New Jersey, USA on the 12th.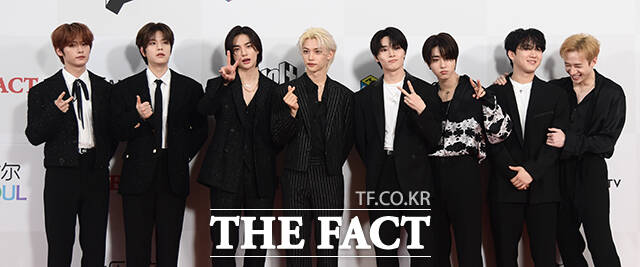 Source: Reporters Lee Sae-rom, Nam Yong-hee, Lee Dong-ryul
'2023 TMA', hosted by The Fact and organized by FAN N STAR, was co-hosted by Jeon Hyun-moo and Seohyun, and the red carpet began at 4:30 pm and the awards ceremony began at 6:30 pm. In attendance at the awards ceremony were Stray Kids, Lim Young-woong, NewJeans, Ive, Aespa, ITZY, Nmix, Seventeen, ATEEZ, Treasure, Xikers, Boy Next Door, Zero Base One, Kwon Eun-bi, Jannabi, and Lee Chan-won.
'2023 TMA' is a music awards ceremony and festival venue created by K-POP artists and global fans. The best teams representing K-pop decorated a special and spectacular stage that can only be seen at '2023 TMA'.