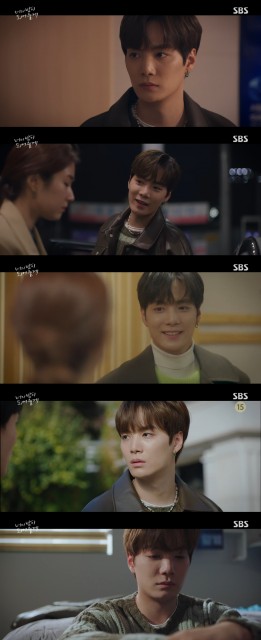 Kim Jong-hyun of the group NU'EST left a strong impact with his tearful acting.
In the SBS Sunday drama "I'll Be Your Night," which aired on January 16th, Lee Shin (played by Kim Jong-hyun) gave a sad performance of parting with Chae Ji-yeon (played by Ha Young), touching viewers' hearts.
In the play, Lee Shin and Kim Yoo-chan (played by Yoon Ji-sung), who appeared as guests on Chae Ji-yeon's radio and were on live broadcast, could not hide their embarrassment due to rumors of a sudden romantic relationship. Kim Yoo-chan told Lee Shin to go back quickly, but Lee Shin was worried about Chae Ji-yeon, who was left behind, and refuted that she could not go alone, subtly creating an atmosphere.
Later, Lee Shin and Chae Ji-yeon recalled the day when they first met while listening to the radio and recalled the past when Chae Ji-yeon talked about her ideal type to the moment she confessed. Lee Shin, who arrived at the arboretum and enjoyed his morning date, maximized the mournful atmosphere by returning to the accommodation and crying while holding onto Chae Ji-yeon, who was saying goodbye to him for a while.