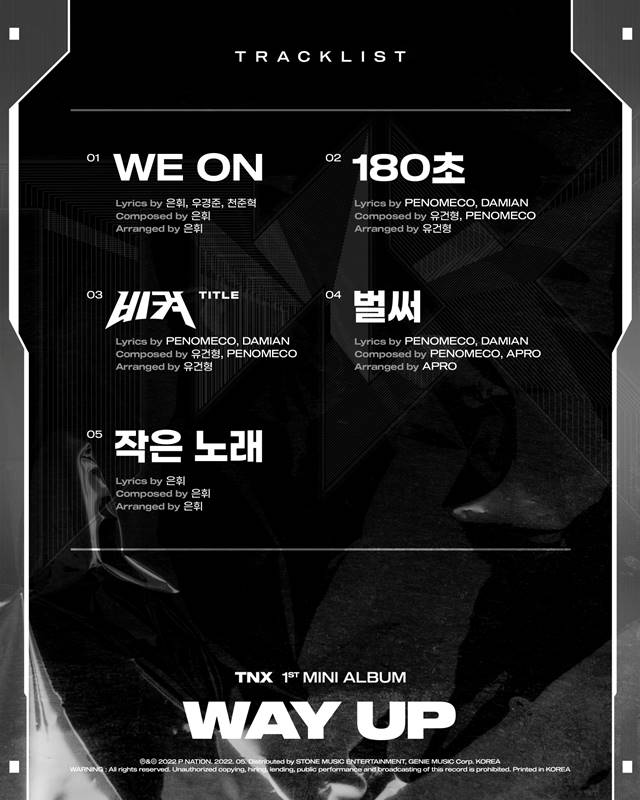 P NATION's first boy group TNX released the tracklist of its debut album "WAY UP" on its official SNS account at midnight on May 4th.
According to the tracklist, a total of five tracks, including the title song "비켜," "WE ON," "180 초," "벌써," and "작은 노래," fill TNX's "WAY UP." The TNX logo symbol, which was slightly hidden in the cold achromatic color, also led to an overwhelming atmosphere and stimulated curiosity to the fullest.
The title song "비켜" was composed by PENOMECO, a musician from P Nation, and Yoo Gun-hyung, a composer of "Gangnam Style," participated together to give TNX's identity a variety of colors. In addition, member Eun-hwi participated in the lyrics, composition, and arrangement of "WE ON" and "작은 노래," while Woo Kyung-joon and Chun Joon-hyuk also participated in the lyrics, giving strength to TNX's first move.
Earlier, TNX, which faithfully unravels the storyline of "WAY UP" with various attractive teasing contents ranging from object photos to story films and photos of each member, unveiled its tracklist on the same day, raising expectations for its debut.
[Picture = P NATION provided]