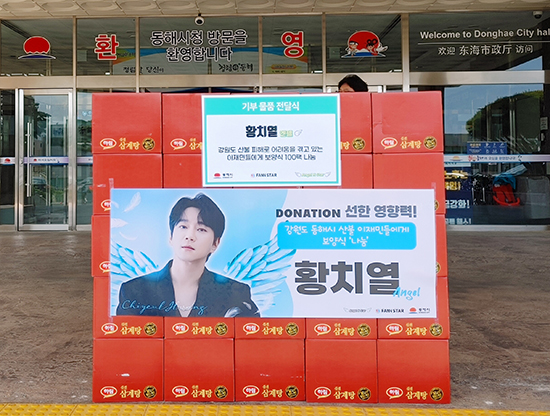 [Reporter Son Hae-ri] Samgyetang was delivered to a social welfare facility in Donghae City, which suffered from forest fires in Gangwon Province, due to the good influence of singer Hwang Chi-yeul.
On May 16th, Hwang Chi-yeul Angel's goods delivery ceremony was held at Donghae City Hall. Hwang Chi-yeul Angel did a good job through "Fan N Star_Angel N Star," which shares health food at the "East Sea Social Welfare Facility damaged by the worst forest fire in Gangwon Province ever" held for a month in April. Due to Hwang Chi-yeul's good influence, 100 packs of samgyetang were delivered to social welfare facilities in Donghae-si, which were damaged by forest fires in Gangwon-do.
Hwang Chi-yeul's fans joined the meaningful event with support for Hwang Chi-yeul. A goods sharing ceremony was held at Donghae City Hall, and samgyetang was delivered to vulnerable people through social welfare facilities in Donghae City.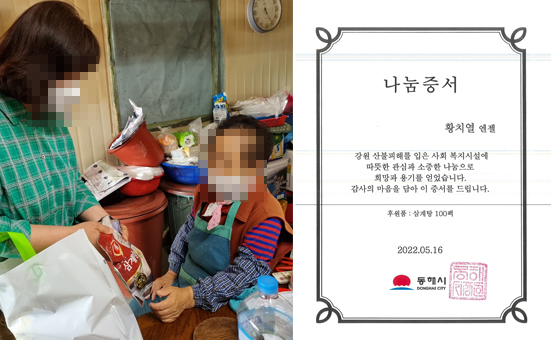 An official from Donghae City Hall said, "It was a great help as precious sharing was carried out with warm interest in social welfare facilities suffering from forest fires." When Samgyetang was delivered to people, they paid attention to the singer Hwang Chi-yeul's name and thanked him.
Meanwhile, Fan N Star-Angel & Star is carrying out a project to deliver the happiness of gifts to vulnerable children and teenagers so that they do not feel the emptiness of their parents during the "Family Month" from May 2nd to 27th.