Park Jun-hyung and KCM of '18 Years Best Friends', presented from the prose exhibition to the duet stage.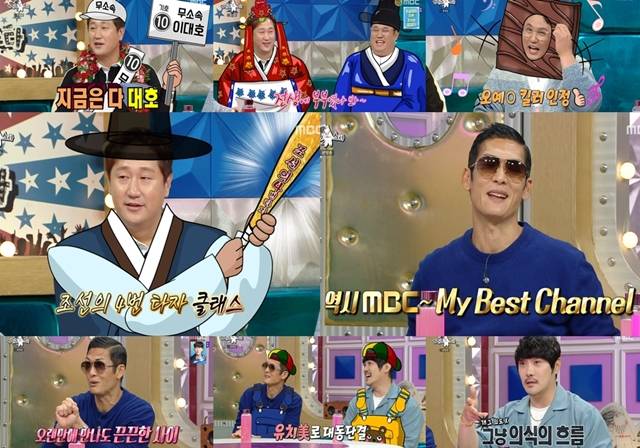 Source: Screenshot of broadcast
[The Fact |Reporter Park Ji-yoon ] Close friends representing the world of baseball and entertainment Lee Dae-ho, Choi Jun-seok, Park Jun-hyung, and KCM compete for 'Las' and take the air small screen on Wednesday night.
MBC's entertainment program "Radio Star," broadcast on the 26th, is decorated with a special feature of "My Friend Like Gold," in which Dae-ho Lee, Jun-seok Choi, Jun- Hyung Park, and KCM appeared together. The four of them showed frank talk and 'thin' chemistry.
First, baseball legend Lee Dae-ho, who recently retired, has played an active role as the 'entertainment hitter 4' with a high batting average. He said he received a lot of presents at the time of his retirement and said, "Shin-soo Choo said he would give me a one-year subscription to the Star Coffee Shop. They said they wouldn't accept it because There's a cafe competing on my team, but if I give it to you now, I'll take it."
Next, Lee Dae-ho tells the story of his 21-year professional career, from the secret behind his 9th consecutive home run record to his home run record. at the Beijing Olympics. In addition, when asked if he wanted to enter the entertainment industry after retiring, he expressed his greed and said, "I want to do it when I have the opportunity." However, he showed interest in a management position, saying, "I was unable to keep my promise to my fans before retiring. I want to win as a leader if given a chance."
In addition, Lee Dae-ho and Choi Jun-seok, 22 years old, attracted attention when revealing a "thin" bust similar to their weight due to their eating habits. Lee Dae-ho shared an episode where he and Choi Jun-seok lived together in a studio for 4 years and revealed that even after moving to a new house, Choi Jun-seok followed him. In response, Choi Jun-seok confessed, "Lee Dae-ho is a friend with a lot to learn. And his salary increased because he played baseball well.
On the other hand, Park Jun-hyung brought laughter to viewers with his straightforward statements. After announcing the news of god's solo concert in December, he showed his unchanging friendship, saying, "Unlike, in the past, each of us has a married life, so we feel like relatives.
In addition, Park Jun-hyung created a good laugh by exchanging an 18-year-old with KCM. After filming for 'It's Good If We Don't Fight,' KCM expressed their sadness to Park Jun-hyung, who gave an interview that he would not be traveling together. In response, Park Jun-hyung revealed, "I'm good at lying. I said, 'I'm good at fishing, but I couldn't catch any.'
After completing the activities of MSG Wannabe, KCM announced that they reached their second golden age with a packed schedule from solo concerts to movie star selection. In addition, KCM also attracted attention when performing the stage 'Lies' with Junhyung Park. The two brought laughter and emotion, at the same time, by adding the greed of the 18-year-old girl 'Chinchin' to the song that purifies the headphones.
At the end of the broadcast, a special program titled 'I like to eat on Wednesdays' starring Lee Yeon-bok, Kim Byung-hyun, Noh Sa-yeon, and Hibab in next week's lineup was announced father, raised many expectations.