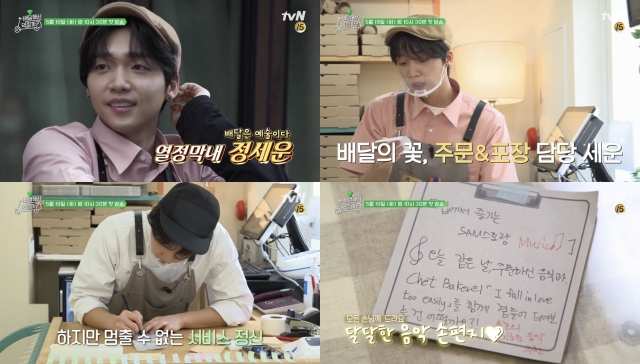 Perfect packaging , Music memo marketing "All-around entertainer preview"
'Singer-Songwriter' Jeong Se-won will make his first appearance as the youngest member of tvN 'Will it work by delivery?'
Jeong Se-won will appear on tvN's new entertainment show 'Will it work by delivery?' which will premiere on March 19. He is the youngest employee of the Italian restaurant "I AM SAM."
The domestic spin-off version of the "Will it work local?" series, "Will it work by delivery?" is a reality program in which chefs Sam Kim, Ahn Jung-hwan, Yoon Doo-joon and Jeong Se-woon enter delivery food applications and sell Italian food. Jeong Se-won is the youngest member of a team full of passion from packaging to marketing, and the expectation of viewers is high.
As the team's youngest employee, Jeong Se-won is expected to do his part as a multi-talented entertainer, taking responsibility for everything from order customer care to cooking assistance. Based on his unique calm and relaxed personality, he diligently travels back and forth between shops to show off his diligence and sincerity, disseminating positive energy to the team with his fresh looks as a weapon, and playing as a human vitamin. In addition, been working as a solo artist jeong se - woon "I am sam" Kim chef Sam as a team, Jeong Hwan Ahn, Dong Yoon Doo-joon and Kemi to show curiosity and can, too...
The original charm of "Singer-Songwriter" is also fully displayed. The list of sweet music will be hand-written on a memo pad to match the menu and mood of the day, giving a unique sensibility, and making viewers smile with bright and cute faces. In addition, viewers are paying more attention to how Jeong Se-won, who has shown a strong presence with his outstanding agility and witty language in various genres of entertainment programs such as radio, music talk and variety as an "entertainment star," can continue his performance in "Will it work by delivery?"
Debuting with "JUST U" in 2017, Jeong Se-won pioneered a new area called "Singer-Songwriter" with high-quality guitar skills and emotional vocals, releasing "BABY IT'S U," "20 Something," "Feeling," and "Like Rain Day," and repeating his remarkable growth as an artist. In addition, he has been active in various entertainment programs, including the popular drama OST and EBS radio 'Listen' DJ.
Meanwhile, tvN's "Will it work by delivery?" starring Jeong Se-won will premiere at 10:30 p.m. (19th).