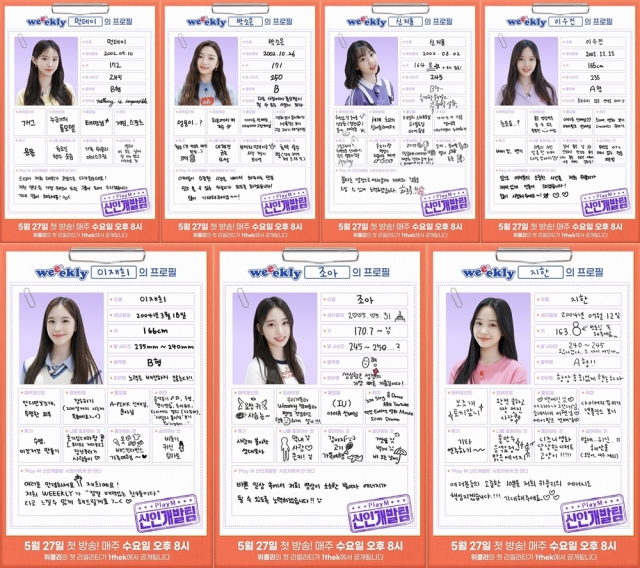 PlayM's first seven-member rookie girl group (Weeky) in 10 years will meet fans through a reality show before their debut.
The agency PlayM Entertainment said, "Newcomer Weekly, which is set to make its official debut in June, will launch the reality show 'PlayM New Artist Development Team' with the global K-pop channel brand (1theK) and make its first public debut on May 27."
Prior to this, 1theK released teaser images written with members' handwritten profiles on its official SNS and officially announced the launch of the reality show with Weekly.
Planned and produced by 1theK, the "Rookie Development Team" is a new concept debut reality designed to allow the public to share the intensive training process before Wickley's debut from the closest point of view under the concept of a rookie development department that secretly exists underground in the agency. From one of the idol's basic virtues, "entertainment" training to "ending pose," which can be used on stage, the team is expected to take a step closer to the "debut flower path" by completing the intensive "spartan" courses that must be taken before their debut.
The program, which will be released over four weeks, is the first original reality show of the rookie Wickley, which is rapidly emerging at the same time as the debut announcement, and is drawing keen attention from fans at home and abroad. Expectations are high on what hidden talents and talents Wickley, who has been communicating with the public through various contents even before his debut, will be able to show off in the reality "New Human Development Team."
PlayM's 17-year-old girl group 1theK (Lee Soo-jin, Monday, Ji-han, Shin Ji-yoon, Park So-eun, Joa, and Lee Jae-hee), which is newly launched about 10 years after Apink, will make a surprise debut in June based on the catchphrase "Giving a New and Special Week Every Day." Weekly, whose character film, which reveals seven debut members, recorded a total of 4 million views on YouTube, continues to be an unusual topic for a rookie, with 6.6 million hearts (like) poured into its first V LIVE broadcast on the 19th.
Meanwhile, Weekly's first reality show "Play M Rookie Development Team" will be broadcast on Wonder K's original YouTube and official SNS channels at 8 p.m. every Wednesday for a total of four weeks starting on the 27th. In addition, you can meet them through Melon and Kakao TV.