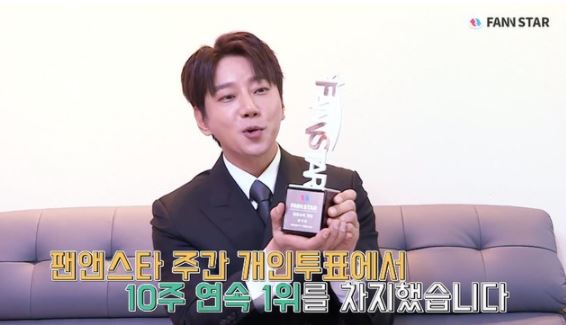 [The Fact | Reporter Lee Narae] Singer Hwang Chi-Yeol rose to the first place in the personal rankings of FAN N STAR for 10 consecutive weeks and rose to the Hall of Fame. Accordingly, the FAN N STAR released a video of delivering his trophy to Hwang Chi-yeol.
On December 31st, FAN N STAR released a video of Hwang Chi-yeol who received his trophy. In the released video, Hwang Chi-yeol is holding a trophy to express his thoughts on winning the award..
"I won the first place in the fan and star weekly individual voting for 10 consecutive weeks," Hwang said. "I received the trophy thanks to your love."
This is not the first time that Hwang Chi-yeol has received her trophy in FAN N STAR. If she adds up to the award she received earlier, this is his fourth trophy. Hwang Chi-yeol said, "I've won several trophies at Fan N Star, and I'm happy and joyful whenever I receive these awards," Hwang said.
He then added, "I will continue to work hard in the future. I ask for your support and love as I do now. Always be healthy."
From the 3rd week of August to the 1st week of November, Hwang Chi-Yeol was ranked 1st in the FAN N STAR personal ranking for 10 consecutive weeks. In FAN N STAR, an artist who has won first place for 10 weeks in a row enters the 'Hall of Fame' and delivers trophies. Hwang Chi-Yeol proved her strong fandom by keeping the No. 1 spot among the top idol candidates for 10 consecutive weeks.
The screening schedule of the electronic board to announce the news of Hwang Chi-Yeol's award will be announced later through the FAN N STAR announcement and official SNS.