JYP Entertainment's new boy group Xdinary Heroes has become a charismatic musical hero.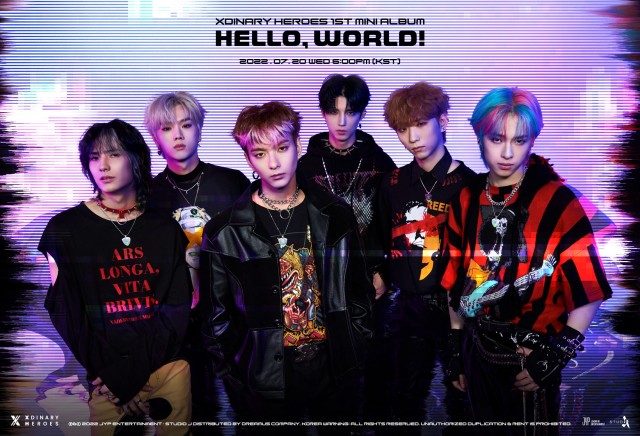 Source: JPY Entertainment
X Dinnery Heroes will return after the release of the first mini-album Hello, World! and the title song "Test Me" on July 20. Previously, on the official SNS channel, teasers of individuals which are Gun Il, Jung Soo, Gaon, Od (O.de), Jun Han, and the male lead were announced in turn. At 0:00 (KST) on the 14th, the group uploaded a picture of a group of 6 people gathered in one place.
In the teaser, the six members revealed the appearance of a Cyberpunk rock star thanks to strong fashion items and colorful hair. The background that created the noise created an atmosphere that was like a connection to "♭form" (platform), an unknown space, and the main place in their worldview. In impressive photos with the effect of a red body jacket and neon shirt, the male singer raised expectations for rookies when he felt the members' tragedy after preparing to launch on stage.
The new song "Test Me" contains a strong message of those who are building their world even though it is still incomplete and has promoted their musical ability when participating in writing lyrics and composing music for the members, which are Jung Soo, Od, Jun Han. The lyrics are full of energy, and the rock band's special feature is the strong and refreshing sound.
X Dinnery Heroes is a new boy band from JYP after six years and three months since DAY6 and consists of a drummer, leader Gun Il, keyboardist Jung Soo, Od, guitarist Gaon, Jun Han, and bassist. Just like the group's name stands for "Extraodinary Heroes" which means "We Are All Hero" and "Anyone can be a hero," the group is expected to be active and become a "world K-band." next generation".
On the other hand, the mini-album vol.1 Hello, World! and the title song "Test Me" of X Dinnery Heroes will be officially released at 6 pm (KST) on July 20. At 6 pm (KST) the same day, the group will meet fans through Naver Now and the official YouTube channel.