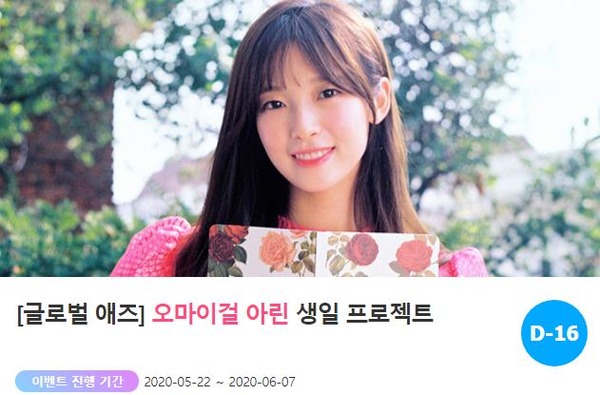 'Fan & Star' has launched a birthday ad event for the group OH MY GIRL Arin.
The weekly idol ranking site Fan & Star launched a special project for Arin on May 22. It is a large advertising project to celebrate his birthday on the 18th of next month.
Arin's birthday event will be held simultaneously at the "Fan & Star" service in Korea, China, Japan, and Vietnam. It adds meaning to the fact that fans from home and abroad can participate together.
The method of participating in the project is simple. The method is to donate the stars (points that can be collected on the site) that fans eagerly collect to the desired advertising products. The number of donations is unlimited and you can add another product.
Currently, Arin's birthday project has abundant products such as CM board at Hapjeong Station, SM board at Gangnam Station, Media facade at Myeong-dong, digital advertisement at Jamsil Lotte Department Store, Jamsil, Myeong-dong, and Dongdaemun 1-day package (Lotte), along with electronic display boards at 42 stations on Seoul Subway Line 2.
The event will run until the 7th of next month, and you can participate in the "ADs" section on the Fan & Star website.