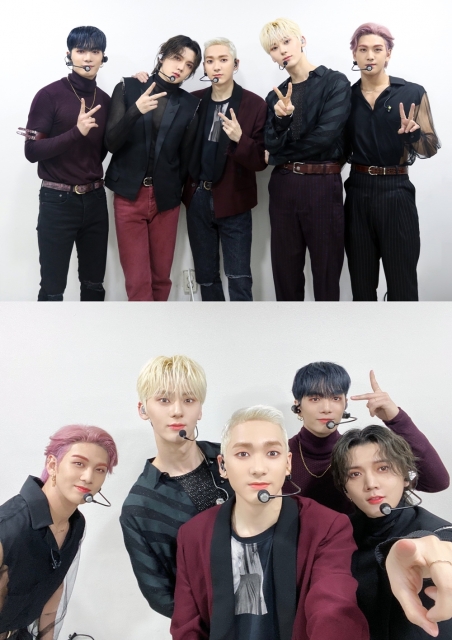 The group NU'EST (JR, Aron, Baekho, Minhyun and Ren) successfully wrapped up their activities for their eighth mini album "The Nocturne."
NU'EST, who made a splendid comeback with its eighth mini-album "The Nocturne" on May 11, gave a different boldness with its title track "I'm in Trouble," dyed the world with deadly sexiness and finished its official activities after SBS's "Inkigayo" stage, which aired on the afternoon of the 24th.
# Unlimited change
In its ninth year, NU'EST made another challenging change through its eighth mini album and the attempt was a complete success. NU'EST has matured and deepened as the mini-album "The Nocturne" focuses on the time "Time for the Night," a moment when emotions become more honest, and unravels various aspects of the night with realistic expressions and stories that anyone can relate to. The five members' hairstyle changes stood out by far, and they doubled their sexiness with bold styling such as see-through, mesh, and crop. In addition, the performance and facial expressions on stage were enough to feel NU'EST's deadly charm.
# Sound source → discography → Music broadcast series 1st place march
NU'EST's title track "I'm in Trouble" is a song that captures the moments of falling into each other with intense attraction, topping various online music charts right after its release, and all the songs from its eighth mini album succeeded in charting, ranking first on the iTunes album charts in 13 regions as well as the top 10 in 21 regions, marking the start of its comeback.
With its eighth mini album "The Nocturne," the first sales of its seventh mini album "The Table" easily surpassed the top weekly charts on major music charts such as Hanteo Chart and Sinnara Records, and Gaon Chart also topped the 20th week of 2020 on album charts, retail album charts, download charts, and BGM charts, winning four gold medals.
Not only that, show! Starting with 'The Champion', 'M Countdown', 'Music Bank', 'Show! He won the first place with his title track "I'm in Trouble" in "Music Core," winning four music shows and winning first place in various places, showing off his potential as a big group.
As such, NU'EST proved that there is no limit to the genre they can express with its eighth mini-album "The Nocturne," which contains changes and growth in its ninth year since its debut, and drew expectations for future activities.